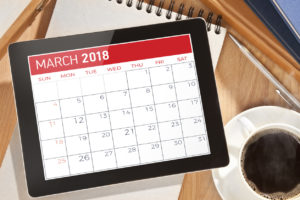 How did this happen?  Just yesterday, we were writing up reports on results for Q4 of 2017, and yet somehow Q218 is only days away.
When the days…and the quarters…come and go so quickly, it can be easy to overlook the changes and maintenance you meant to do, need to do, really should do to keep your company's site running smoothly. For instance:
Have you checked your site's speed lately? 
According to Google, 53% of mobile visits are abandoned if the site takes more than 3 seconds to load. THREE seconds! We have become impatient, people! But like it or not, speed is critical to online marketing success, whether your visitor is on a mobile device or computer. And when it comes to conversions, it's even more essential. Google research shows that "for every one-second delay in mobile site load time, conversions can fall by up to 20%."
Are your pages where you think they are? 
If you've removed site pages or migrated your site to a new theme or platform, there's a good chance that there are links out there in the web-o-sphere that lead to a dreaded 404, Page Not Found experience. Sure, someone can usually click somewhere in your nav and do a search for what they need. But we all know they probably won't. Instead they'll just go somewhere else, to a site where the page they click serves up the content they expect.
As if the inbound 404s weren't bad enough, chances are you have at least a few (or maybe a lot) of internal links that also lead to missing pages. Cute 404 messages are a nice touch, but they're no substitute for clicks that lead to the right pages…or at least a reasonable substitute. Taking care of redirects every time a page changes, and doing regular searches to find the unexpected 404s within your site is an task you need to undertake at least every quarter.
How does that pretty page look on your prospect's device? 
We spend a lot of time making sure our web pages look good on the devices we're using to create or edit them, but have you checked out how it renders on your client's MacBook, Samsung S8 or PC? Remember, they can't convert if that form you spent so many hours designing is halfway off the screen!
With new devices coming out faster and faster, it's more important than ever to check the responsiveness of your website across all kinds of handheld and desktop devices. It's a good idea to run UX tests on a regular schedule, as well as anytime you make major changes in page layout, theme or platform.
That SEO project you did back in 2016? Yeah. It's time to dig in again. 
Google and other search engines are getting pickier and picker about what they consider a top-notch site. They want relevant, original content (and yes, that means FRESH content, too!), proper tags on images, good internal linking, a sound site architecture and above all, clean coding. If your site is using old standards, it might be skipped over when the spiders start looking for the best results to present for a given query.
No one wants to hear that they need to redo the website they created only a couple of years ago. But in 2017, Google made it clear that the standards for organic search success were more refined than ever. And that means it's past time for a full site audit, to determine what can stay, what needs to be changed and what needs to go far, far away forevermore. Painful. We get it. But if you don't come up in search…
We love checklists, and we like to share!
We found a great checklist for your 2018 website, "The Top 10 Website Tune-up Items for 2018" prioritizing changes you might need to make for speed, security, performance and user experience. Take a look at what White Lion has put together to help you start evaluating your site. And if you're a brand new company, just getting ready to go to market, here's a Marketing 101 intro…and another handy checklist!
If you have any questions, we'd be happy to help you understand what you need to do to make the last three quarters of 2018 the best ever for your B2B e-commerce site.