How many active B2B searchers can't find you on Google?
(Without site optimization in place, it's probably over 95%.)
Isn't it worth a little money to answer that question?
We do business a little differently.
We're not going to try to sell you something you don't need or don't understand.
Unlike those unsolicited phone calls from "Google" asking you to "verify your listing or lose your place on Google," or daily spam emails offering $99 first-page placements, we're the real deal.
If you've got nagging worries about your website performance or just questions about search marketing, call us at 512-637-5272. Let's look at your website and talk about your business; we can tell right away if you've got SEO issues. Then we can talk about next steps.
Selecting the right keywords to focus your site's content is part of the puzzle; knowing which keywords you've got the best shot at winning (if you're going to invest in SEO) is the secret of our formula for success as Austin's first B2B SEO agency. And the experience of working on well over 100 websites means we know what works.
It's not just useful to know what terms people use to search for your solutions: it's the driving force of search marketing, for both SEO and paid search. Besides, superseding every SEO technique, quality site content is what Google is looking for.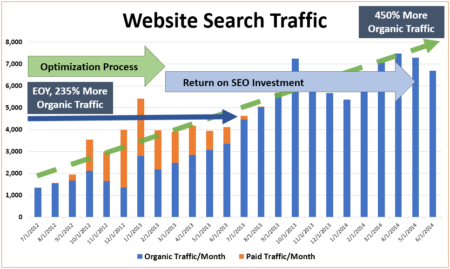 As Google transitions to a "mobile first" ranking philosophy, B2B companies are punished: most visitors arrive by desktop computers. Are your mobile pages loading as quickly as they could? Pages loading in over 3 seconds affects your abandonment rate, and that's going to affect your rankings. Lower rankings = fewer new leads. Worried? Trust us, you're not alone. The question is, do you have a plan in place to fix your site's weaknesses vis-à-vis these new standards? And how can you get there?
A custom site wellness report and high-level recommendations will identify technical issues which may be plaguing your site and show you some of the many ways people are trying to find your website. This is a brand-new product we just launched, with powerful, actionable insights. It's just $1000, and if you decide to do the next phase or two of site optimization, you'll get a full $1000 credit toward that work.
Download a sample report …no registration required.
If you're ready to start, fill out the form below with 10-15 search phrases you would expect prospects to use (not brand names or terms unique to your company), and we'll expand the list to identify a much broader audience. Also, give us the URLs of your top 4-5 competitors, so you can see how well your site is competing on each one of these search terms (and quantify how much opportunity you're missing).
We'll use your contact information to generate a deposit invoice of $500; before we start work, we'll set up a call to discuss your business objectives and current situation.. After you receive your report, if you move forward into the next phase, you'll get a $1000 credit on a full research study and site optimization strategy (that's a $6000 project).
IF YOU JUST HAVE A QUESTION OR WANT US TO CONTACT YOU…AND AREN'T ORDERING THE $1000 REPORT…PLEASE TELL US IN THE COMMENTS SECTION.
PLEASE, NO SPAM "PARTNERING OPPORTUNITIES."
NOTE: The free website consultation by phone is available only to US-based, business-to-business companies.